Over the years, there has been a number of different materials used to make garage doors.
Today, you can come across beautifully crafted garage doors made from different materials ranging from steel, aluminum, vinyl, fiberglass, and wood.
Why Choose Wood for Building a Garage Door?
Arguably, wood has become the most popular choice for garage doors among homeowners thanks to a variety of benefits they offer.
Wood garage doors are not only highly attractive, easily customizable, but are also durable and easy to work with.
They also offer a classic appearance that is difficult to replicate with other available materials.
There are various types of woods that can be used to make garage doors, so choosing the best one can sometimes prove to be a daunting task.
One of the obvious advantages of making your own garage door is that it gives you control over both the style and design of your new door.
When you change both the color and design of your door, you are significantly transforming the appearance of your home.
As such, when choosing the best wood for a garage door, it is imperative to factor in the aesthetic element in your decision.
If you are looking to install a new garage door, below are some of the best wood materials options to consider.
Cedar
Cedarwood garage doors are a definite favorite among homeowners.
Cedar boasts excellent resistance to damage from both insects and water.
It is an extremely durable wood that can stand up to any weather, remaining fresh and clean without warping or cracking.
What's more, cedar boasts a highly lightweight design, allowing for effortless workability as well as garage door opener operation.
Cedar is also an incredible heat and sound insulator.
Its porous nature effectively thwarts the transfer of both sound and air, giving it a great insulating and soundproofing value.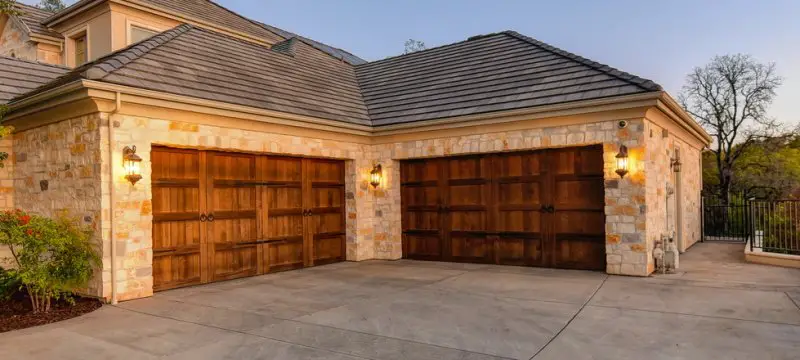 And if you are looking for aesthetic value, cedar has got you covered as well.
Whether you are looking for a weathered appearance, a rustic look, or a gorgeous and strikingly patterned door for your garage, there is a broad range of cedarwood species, stain, and paint finishes that will allow you enhance the design and look of your garage door to complement your home.
Mahogany
Mahogany not only guarantees durability and reliability, but is also very easy to handle and work with.
It combines dependability and beauty into a single package that will surely appeal to any homeowner.
Mahogany is revered for its very rich, gorgeous grain which can also be expertly finished to a high shine if need be.
Mahogany also boasts incredible strength and rigidity, implying that you can use it to create large garage door panels without risk of splitting, warping, or sagging.
Mahogany is also highly resistant to pests and moisture, and this is an essential characteristic for an outdoor application such as garage door installation.
As far as appearance goes, mahogany has a rich grain with a slightly moderate shine and usually comes in a natural red-brown tone.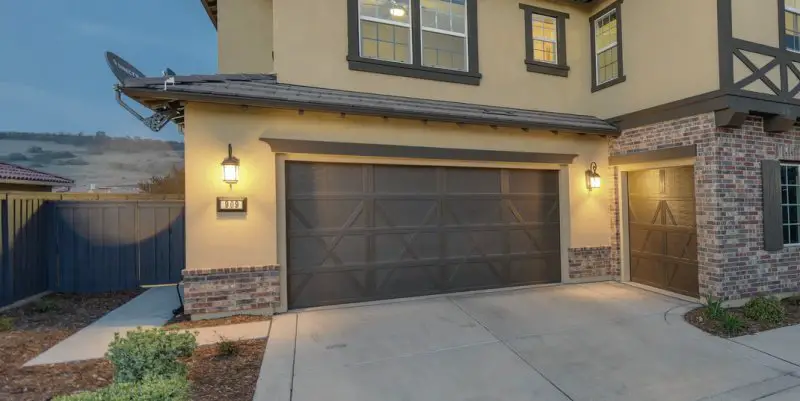 Plywood
Believe it or not, Plywood is also one of the best woods for a garage doors.
This is because it has a fairly low moisture content, making it very easy to work with.
What's more, plywood is relatively inexpensive hence a great option for home renovators on a budget.
It can be structurally beautiful if finished right, but it can also be covered by exterior hardwood skin for a more attractive appearance.
Plywood also boasts incredible density and strength, and will surely last a lifetime if properly maintained.
Reclaimed Wood
For most people, having a wood that is rich in both appearance and history brings a certain pride, charm, and story to their home.
And for others, it is the environmental sustainability factor that makes reclaimed wood their prime choice for garage doors.
For some, however, reclaimed is revered for its unmatched durability and strength.
Reclaimed refers to a good quality upcycled wood that has been grabbed from various sources such as stock farms, retired ships, old barns among other sources.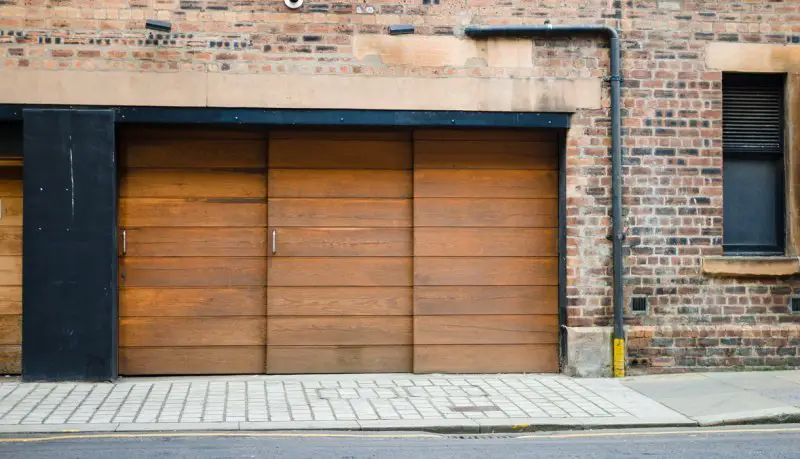 Reclaimed wood offers a rustic design that nearly seamlessly connects your immediate surrounding to the natural world.
It is also highly durable and beautiful and fairly easy to work with.
Redwood
Redwood is naturally highly durable and an excellent choice for homeowners looking to upgrade both the look and structural design of their old garage doors.
With a unique grain, a redwood lumbar will maintain its shape and appearance more consistently and is also somewhat less prone to cupping or warping.
What's more, redwood is naturally resistant to fire, termites, and decay!