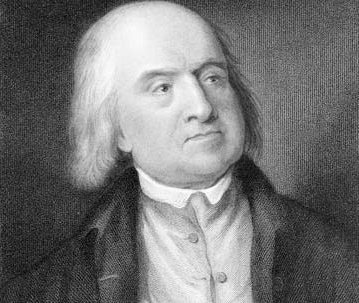 The following are quick biographies of important machinists.
Sir Samuel Bentham 1757 – 1831
'General' Bentham, was responsible for the construction and supervision of H.M. Dockyards.
Perhaps the most important of these was situated at Chatham "where every item of turning, etc. is performed for the Navy, from boring the chamber of a pump to the turning of a button for a chest of drawers".
It was at Chatham that Brunel's remarkable block making machinery was set up under Bentham's direction.
A second set was also installed in Portsmouth Dockyard.
The plant at Chatham, however, was never used since Portsmouth could supply all the blocks that the Navy required.
Joseph Bramah 1748 – 1814
Joseph Bramah was born at Stamborough in Yorkshire on April 13th 1749.
When he was about sixteen he was incapacitated by an injury to his ankle and so was unable to follow his intended employment as an agricultural laborer.
Bramah, therefore, became apprenticed to a carpenter and joiner, later obtaining employment with a cabinet maker and eventually becoming a principal in that business.
Although initially having had a grounding in woodwork, his fertile brain led him into the field of pumps, fire engines, steam boilers and papermaking machinery for all of which he obtained patents.
His most notable contribution to the machine tool industry was his invention of the hydraulic press, the later development of which was to have far reaching results in any part of industry where immense forces were needed.
He was also responsible for the special type of lock that bears his name,.
In this he was helped by one of his men, Henry Maudslay, who was instrumental in solving some of the complex machining problems involved in its manufacture.
Marc Isambard Brunel 1769 – 1849
Brunel was born at Hagneville in Normandy in 1769.
Having served for a period in the French Navy on the return from one of his voyages in 1792 he found the Revolution at its height, so, like many others with Royalist persuasions, he was forced to seek safety in flight, emigrating to America.
The idea of making wood blocks by machines had been maturing in his mind, so, in 1799, he visited England where he thought his proposals would be the more readily received.
Having had a meeting with Earl St. Vincent, at that time head of the Admiralty, after many administrative delays and on the recommendation of Earl Spencer and General Bentham, the system for making these ship's blocks was adopted.
With great discrimination Henry Maudslay was selected by Brunel to make the equipment.
At a time when the Great Britain, the first screw-propelled ironbuilt ship, is in the news, having been returned to the place of her birth, it is interesting to recall that it was Brunel who had initiated and supervised her construction.
Joseph Clement 1779 – 1849
Clement was a gifted mechanic who, in company with Maudslay, made many improvements to the lathe, notably in the provision of self-acting mechanism to lathes designed for facing operations.
This he did in 1827.
He also produced, in 1825, the first planing machine resembling those made towards the end of the 19th century.
Clement was another member of Bramah's engineering coterie.
He had started active life on the land, but, finding that he was more interested in mechanical matters, he persuaded the local blacksmith to allow him access to his forge where he quickly became proficient in the use of hand tools.
His ability to use tools got him a post with a firm in the neighborhood making power looms.
But his experience here, and the greater indication he received on moving to Carlisle, convinced him that the men in the real money were the draughtsmen and designers.
Accordingly he determined to train in draughtsmanship and having done so gravitated down South to London where his design qualifications secured him immediate employment, leading eventually to his becoming chief draughtsman for Maudslay Son and Field.
Clement stayed with them for many years assisting in the production of marine engines for which the firm had become famous.
Eventually specializing in the making of machines for particular duties and carrying on with the improvements to screw threading equipment started by Maudslay.
Clement's shops were notable for the quality of their workmanship and, as subsequent events were to prove, for the caliber of the men employed there.
As an example Joseph Whitworth was one of them.
Henry Maudslay 1771 – 1831
Maudslay, was brought up near Woolwich Arsenal.
His father, a cabinet maker, having joined the army and then been invalided out, became a storeman in the Arsenal.
This enabled the young Maudslay to obtain a position in that organisation in which he rapidly became a proficient worker, particularly after he was transferred to the metalworking shops.
His ability came to the ears of Bramah who was looking for a capable mechanic to assist him in the development of his patented lock.
However, when Maudslay appeared at Bramah's works both Bramah and his foreman were at first doubtful of his capability for he had served no recognised apprenticeship.
But on Maudslay offering to re-build a damaged bench vice as a test of his proficiency and finding that he did so expeditiously and well, they became convinced of his suitability for the post offered.
Maudslay stayed with Bramah for ten years eventually becoming foreman.
He left to found his own business, having in the meantime married Sarah Tindel, Bramah's housemaid.
His claim to fame in the field of machine tools lies in his invention of the screwcutting lathe and the slide rest.
But his employment by Brunel to produce the wood working machinery for the making of ships blocks established him as an engineering designer and manufacturer.
The block-making plant, probably the first example of mass production, was a complete success and led to a great increase in business involving an expansion of workshops facilities, leading eventually to the formation of the firm Maudslay Sons and Field which was carried on by his eldest son after Maudslay's death in 1831
James Nasmyth 1808 – 1890
The steam hammer was patented by Nasmyth in 1842.
Originally designed so that the hammer head was lifted when steam was applied and was then allowed to fall by its own weight, the steam hammer has been modified to admit steam above the piston and so increase the force of the hammer blow.
Every increase in the weight of a vertical steam hammer requires a very much larger increase in the weight and solidity of the anvil which resists the blow.
A 40 ton hammer once in use in Woolwich Arsenal had an anvil weighing some 160 tons and there were nearly 500 tons of iron in its foundation.
Nasmyth was born in Edinburgh on August 19th 1808.
He went to school in his native centre, attending classes in chemistry, mathematics and natural philosophy at the University.
He developed a considerable skill in the production of working models of such things as steam engines.
These found a ready sale and were instrumental in securing Nasmyth a place in Henry Maudslay's workshop, where his ability to use tools was instantly appreciated.
Nasmyth spent two years with Maudslay, leaving his employment in 1830. In 1834 he started in business on his own account.
The beginnings were small, but business quickly developed, to such an extent that by 1856, he was able to retire as a very rich man.
Richard Roberts 1789 – 1864
Roberts was born in 1789 at Carreghora in the parish of Llanymynech, Montgomeryshire.
His father was a shoemaker who could give his son little education so, as soon as the boy was old enough he was put to common laboring work.
For a time he worked in a quarry near his home, but finding little interest in the work he used to spend much of his time in making various pieces of mechanism, an occupation for which he was developing an aptitude.
He seems to have rapidly gained a facility in the use of hand tools, this encouraged him to seek employment in a neighboring iron works under John Wilkinson, the famous ironmaster who had invented the boring machine that successfully machined the cylinders of Watt's steam engine
On leaving Wilkinson's works he went to Birmingham passing through several engineering establishments in the years that followed.
In this way he gained a wide experience in mechanical processes. Unfortunately, at the end of this period, Roberts was drawn by ballot for service in the militia so he determined to make his way to London where the authorities would find it hard to trace him.
In London he joined Maudslay's workshop where his fellow workers, if not all of them contemporaries, eventually became very well known in engineering circles.
By 1816 Roberts was in business for himself.
The list of his inventions is formidable, many of them applicable to the cotton industry for which he was probably the first of the machine makers.
At the time when Samuel Smiles was writing about him (1878) Richard Roberts may still have been alive, but he would have been an old man approaching his 90th year.
Smiles, however, does not speak of his death but does tell us that his closing years were those of much impoverishment.
Roberts was undoubtedly a great engineer, but he was a poor financier allowing others to exploit him and to steal ideas which, otherwise, would have made him a successful and wealthy man.
John Wilkinson 1728 – 1808
Wilkinson was the son of a day laborer in an iron furnace who rose to be over-looker or foreman.
The father was eventually in business for himself, making a box-iron for the use of laundresses.
This iron formed the basis of the family fortune after the father and son had joined forces.
But the most important of the younger Wilkinson's inventions was the boring machine, its success being proved by the boring of the cylinders of Watt's steam engine.
The accuracy of the work so far exceeded anything previously available that it was largely responsible for the high reputation that Watt and his partner Boulton had in the Midlands.
So far as is known this boring machine is the only machine tool to be developed by Wilkinson himself.
But he had surrounded himself with men of fertile and inventive mind, among whom was Roberts, the inventor of the planing machine.
Sir Joseph Whitworth 1803 – 1887
Whitworth was born at Stockport near Manchester on December the 21st, 1803.
He was at school until the age of 14 and on leaving was placed with his uncle, a cotton spinner, with a view to becoming a partner in the business.
His taste for mechanics, however, found no satisfaction in this work so he soon gave it up, spending some time with various engineering manufacturers near Manchester.
In 1825 he moved to London where he gained further experience in machine shops, notably those of Henry Maudslay.
In 1833 he returned to Manchester and set up in business as a toolmaker.
From then on his business prospered until, on his death in 1887, his residuary legatees were able to provide no less than Ł100,000 for the permanent establishment of the 30 Whitworth Scholarships he had founded in 1868, as well as half a million to charitable objects.