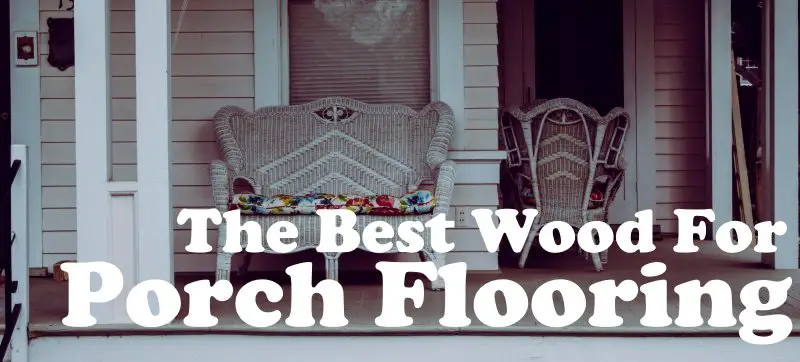 The right flooring for your porch will ultimately depend on your location, the foundation of your porch, and the aesthetic appeal you want to achieve.
Wood porch flooring is probably the most popular option for most homeowners because it is not only highly durable but also attractive and relatively inexpensive.
But what's the best wood for porch flooring?
Ipe
Ipe flooring is highly durable because the wood is one of the densest wood species around the globe.
It is also sustainable and eco-friendly.
The wood's surface is naturally resistant to insect damage, mildew, fire damage, even without chemical treatment.
What's more, it expands and contracts less compared to other wood options.
Thanks to its uniform, smooth texture, and its reddish-brown hue, Ipe is equally beautiful and will significantly boost your home's aesthetic value.
It boasts oils and natural hardness that results in a naturally treated wood that will serve you for an extended period regardless of where it is installed.
Mahogany
Mahogany porch flooring is special because it boasts a dense and highly attractive pattern.
It is a tight-grained tropical hardwood that is not only less susceptible to shrinking, warping, swelling, and twisting, but is also highly resistant to rot and pests.
It has extreme color variations, ranging from light blonde to dark, rich red.
Mahogany is perfect for an inviting, clean finish and sturdy enough for families that plenty of foot traffic.
Red Cedar
Red cedar is a fantastic choice for porch flooring thanks to its unrivaled beauty and durability.
It is naturally resistant to decay as well as insects due to inherent oils, boosting its durability even further.
Even though this amazing wood splinters quite easily, it does hold up well in rain, heat, sun, and cold.
To enhance its aesthetic appeal and durability, you can use a penetrating stain.
If properly maintained, red cedar can potentially last for many years and is versatile enough to be installed for porches in all exposures.
Redwood
Like cedar, redwood is a soft yet highly durable lumbar that exhibits a beautiful gray color as it ages. Its gorgeous and attractive design combined with its ability to withstand warping, shrinking or cracking makes it a perfect wood for your porch flooring.
Thanks to its open cell structure, redwood will always retain its custom finish. What's more, it is arguably the most maintenance-free wood porch flooring material.
Even though it is rot-resistant, prolonged exposure to moisture will potentially blacken its appearance. To preserve its natural hue, you can use a colorless sealer.
Tigerwood
Though it can be quite hard to work with, especially if you'll be using hand tools, Tigerwood is an excellent choice for porch flooring.
It is very durable and naturally resistant to termites and insects.
It is incredibly beautiful and has color variations that range from reddish-brown to dark red, and is usually laced with brown or black stripes.
It is a highly versatile wood that can be used in many applications, ranging from making archery bows and knife handles to musical instruments and porch flooring because it readily accepts stains.